(Last Updated On: November 6, 2020)
Finding a provider of quality iPhone or iPad repair can be a bit tricky. With so many options out there, it can be a bit confusing and, at times, daunting. The following steps can simplify and make the whole process simple. Therefore, your device will end up in the hands of someone who will take good care of it.
Reading Reviews of Repair Companies
First and foremost, go online and see what you can find. A trusted repair shop will have reviews, responses to reviews, be somewhat active on social media, and nowadays will have some sort of history online. Google the company. See what their reviews are like. If they have any negative reviews, do yourself a favor and see if the repair company responds to those reviews.
Take the reviewers with a grain of salt. The old saying you can't please everyone definitely comes into play here. Repair companies are working on with people's prized, expensive possessions. Additionally, nearly all the customers have broken this prized possession. Now add to this scenario: the company cannot fix their most prized possession and let's say there may even be an issue of data loss. This is a recipe that may put the customer in a state of frustration.
The reality here is that repair companies cannot fix everything. They can fix a lot of things, but not EVERYTHING. Think about that phone that was in someone's pocket and they went swimming in a pool filled with chlorine. How about a phone that takes a swim in an ocean filled with corrosive, superconductive saltwater? After that, chemicals like chlorine and ocean salt can cause irreparable damage. Sometimes these devices can be rescued, but not every time.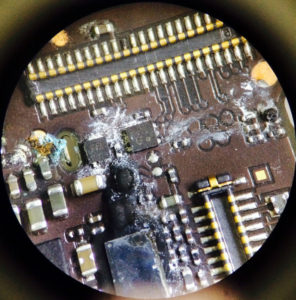 Call it what you want. We will do our best at fixing all devices. TV's, phones, tablets, and yes, even your old flip phone or pager, if we can get parts for it, chances fall in your favor that we can fix it.
At the end of the day, we will do our best to help accommodate your repair needs. So will the majority of all repair companies out there. In order for us to pay our bills, rent, payroll, we have to fix stuff for you.
Contact a Quality iPhone or iPad Repair Company
After you take the time to do your research on a company's reviews, give them a call to get a feel for the company. For instance, see how they answer the phone. If they answer in a polite and professional manner and are willing to help answer your questions, why not give them a chance? Plenty of skilled techs are out there to help you out. It's just a matter of giving them a chance. Chances are you'll encounter someone that really wants to help.
If you find someone that's passionate about providing quality iPhone or iPad repair, they will do what they can to come to a positive solution for you.
When a Repair Goes Wrong
What should you do if something doesn't go as planned with your repair service?
The reality of things is that from time to time, issues may arise with a repair. Above all, please keep in mind everyone is human. Sometimes things may not go as smooth as possible. That is important to remember. However, a reputable repair shop will stand behind what the issue is, and get it sorted in a timely and professional manner.
Conclusion: Give a Repair Company a Shot
In conclusion, there are a lot of quality iPhone and iPad repair companies out there. With some basic due diligence and some understanding, a visit to a repair shop near you can be a great experience. Finding someone based on reputation, community appeal, and an overall positive appearing business based on these key factors can and will help you out when it comes to repairing your device. If you can't find one or are having any troubles, feel free to utilize our mail-in option for a quick, reliable service.