(Last Updated On: November 6, 2020)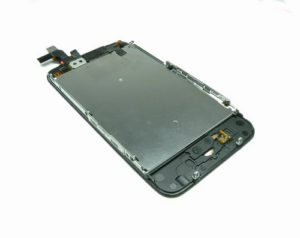 If you bought an iPhone, you know that the touch capabilities are the best part about it. The component that makes this enjoyable experience possible is the digitizer, which is firmly fixed to the screen. Unfortunately, this means that if your touchscreen gets broken or damaged, you will require iPhone digitizer replacement as well.
How iPhone Digitizer Replacement Works
The digitizer is like a thin plastic film attached to the screen. It's sensitive to your finger movements, and sends information about the position and movements of your fingers to the motherboard. The information you enter with your fingers is analog information, and it is converted by the digitizer into digital, or computer-readable, data.
Why You Might Need a Replacement
If the screen is damaged, it is usually the result of the phone being dropped, or knocking against something – a very common occurrence. However, it's possible that the digitizer itself can develop problems. Symptoms that could indicate that your digitizer needs replacing include:
No response from your screen when you touch it.
There is a response, but it is very slow.
Some areas respond erratically, or not at all.
Some applications seem to open unpredictably or randomly.
If you experience any of these problems, your digitizer is faulty and needs replacing – repair is not an option.
Whether the digitizer needs replacing because it is faulty in itself, or because the screen is damaged, it cannot be replaced by itself. Because it is fused to the screen, the two are in effect a single component, so you have to replace the screen as well. There are various ways to do this.
How to Replace the iPhone Digitizer
You can try to do it yourself. There are a number of low-cost digitizer replacement kits on the market, and several instructional three-minute video clips online. However, it is a very difficult repair to do successfully, especially if the kits supply cheap plastic tools rather than metal, and you don't have years of experience and know-how. This can cause serious frustration. There's even a chance of causing additional damage to the iPhone. There is also the option of using Apple's own repair service, though this costs up to $200 and has a lengthy wait time.
The easiest and most satisfactory way of obtaining an iPhone digitizer replacement is usually to find a reliable professional repair company. This is likely to be a lot cheaper than using Apple's service, or paying the deductible for your carrier's phone insurance. Make sure you choose a company that offers a warranty, lists prices on its website, and can guarantee a fast turnaround, such as iFixYouri.
The Simple Truth
The chances of damaging your iPhone are actually pretty high. As you can imagine, the inconvenience of being without it can be pretty painful. It's a smart idea to identify a reliable repair service in advance, such as iFixYouri, that specializes in matters such as iPhone digitizer replacement just in case you need it. Alternatively, if your phone is damaged and you're ready for an upgrade, you could always sell your old iPhone for cash.